Three year appointment, Rianlon Kaiya overfulfills valuation adjustment mechanism
April 28, 2022, is the third anniversary of the CSRC approval of the company's merger and reorganization of Rianlon Kaiya. The leaders of Rianlon and the leadership of Rianlon Kaiya held a valuation adjustment mechanism summary meeting in Hengshui Base.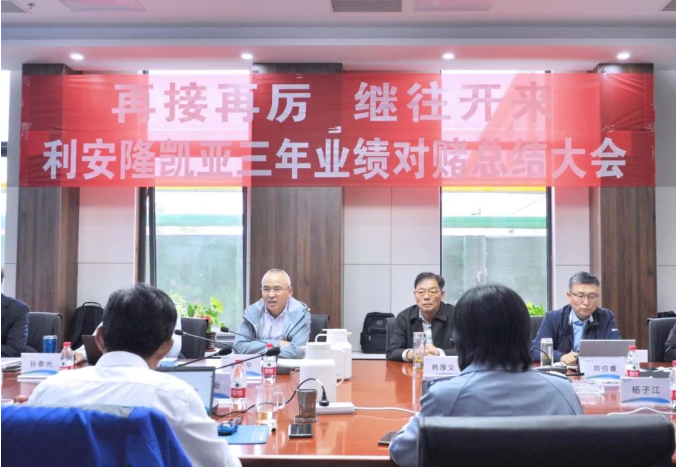 At the meeting, the leaders of Rianlon Kaiya reported the business performance of Kaiya in the past three years, looked back on the synergistic development of the company and the difficulties we overcome together. We also held great expectations for the future development of Kaiya Base.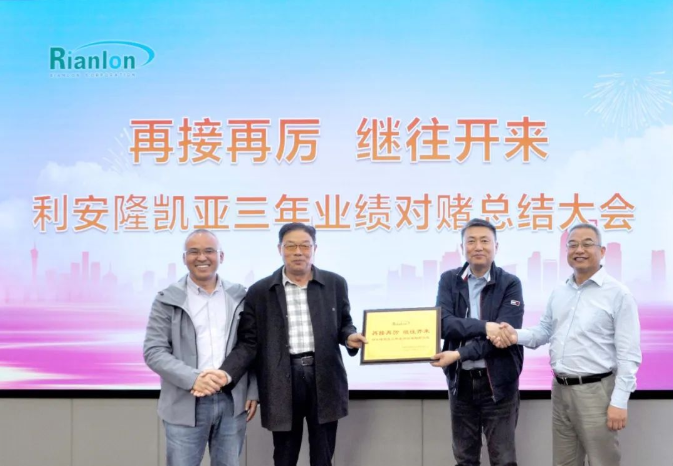 President Li Haiping awarded meritorious awards to the backbone of Rianlon Kaiya. At the same time, Mr Li points out that the excellent performance of Kaiya Base can't be separated from the common understanding of both shareholders for the development of the industry. We will use our strength to enhance the competitiveness of enterprises, constantly optimize the enterprise management system, and create a bright future.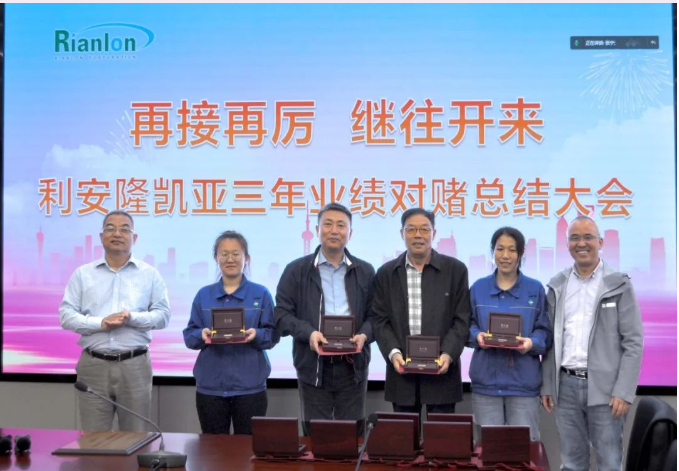 On April 28, 2019, the company issued shares and acquired Kaiya, which was approved by the Merger and Acquisition Committee of the China Securities Regulatory Commission. Kaiya Base was formally merged into Rianlon, and confirmed valuation adjustment mechanism
2019 ≥ 5,000.00 Million Yuan
2020 ≥ 6,000.00 Million Yuan
2021 ≥ 7,000.00 Million Yuan
After the merger and acquisition approval, the company quickly started the two-way integration of industrial layout with Kaiya Base. As of December 31, 2021, Rianlon Kaiya performance commitment has been fully realized, net profit amount accounted is 255.33% of the promised performance!
For the third year in a row, Kaiya has delivered a perfect performance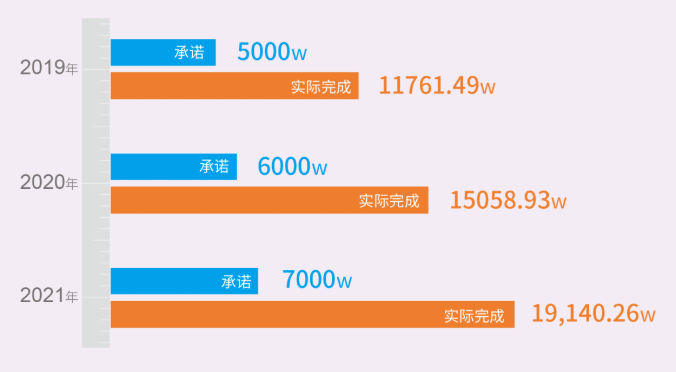 Keep up with the tide of The Times, grasp the market opportunity, as a leading enterprise in the industry of HALS, Rianlon has completed construction of most anti-aging additive categories. We have owned the world biggest HALS capacity and continue to provide technical services. In 2021 Rianlon built Chifeng base, it further strengthens the production capacity of HALS intermediates and completes the upward extension of the industrial chain. We will complete the layout of double - base production of HALS products.
In the future, the company will continue to increase investment in Hengshui Base in technology, capital and operation management. The light stabilizer Research Institute of the company will be located in Rianlon Kaiya, to build it into the world's leading HALS technology innovation center and product manufacturing base. The completion of Rianlon Kaiya valuation adjustment mechanism is not the end, but a new starting point for the group's development!