Rianlon was awarded "2021 China Fine Chemical Industry Top 100" for three consecutive years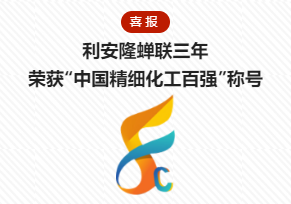 On April 27, the "2021 Fine Chemical Industry Summit and China Fine Chemical Industry Top 100 Launch", jointly organized by China Fine Chemical Raw Material & Industry Association(FCIA), China Chemical Industry Information Association(CCIIA), and China National Chemicals Information Center(CNCIC), was held online. "2021 China Fine Chemical Industry Top 100" list was released. Rianlon Corporation has been on the list for three years in a row, ranking 57th.

Rianlon is the leading solution provider of anti-aging additives and application technologies for polymer materials in the world. We are also the first publicly listed company in the Chinese anti-aging additives industry, with stock symbol:300596.
In 2021, the revenue increased by 38.74% year-on-year to $3.445 billion. Investment in R&D also continues to increase, the input ratio increased by 4.39% from 4.1% in 2020. And with a 48.93% year-on-year increase in the amount of R&D.
The in-depth layout of the Chifeng, Inner Mongolia plant will break the bottleneck of HALS intermediates production capacity and move towards the goal of being the world's most complete HALS supplier with the largest production capacity.
Rianlon has been actively responding to the call for "Double-Carbon" and green development policies. In 2018, Rianlon puts forward the concept of "Essential safety & Essential environmental protection". In the process of strict implementation, we have gradually established the "Dual-essence" management standard, adhering to lean production management and sustainable development.
This award is not only a recognition of Rianlon's strength in the fine chemical industry but also a confirmation of the company's quality management and development philosophy. In the future, Rianlon will live up to the award and make great strides towards the goal of becoming a century-old enterprise and a global leader in the field of anti-aging polymer materials, providing more high-quality products and application technology solutions for customers and the industry.