Star Product|RIASORB® UV-400: Ultra weathering guard for high-performance coatings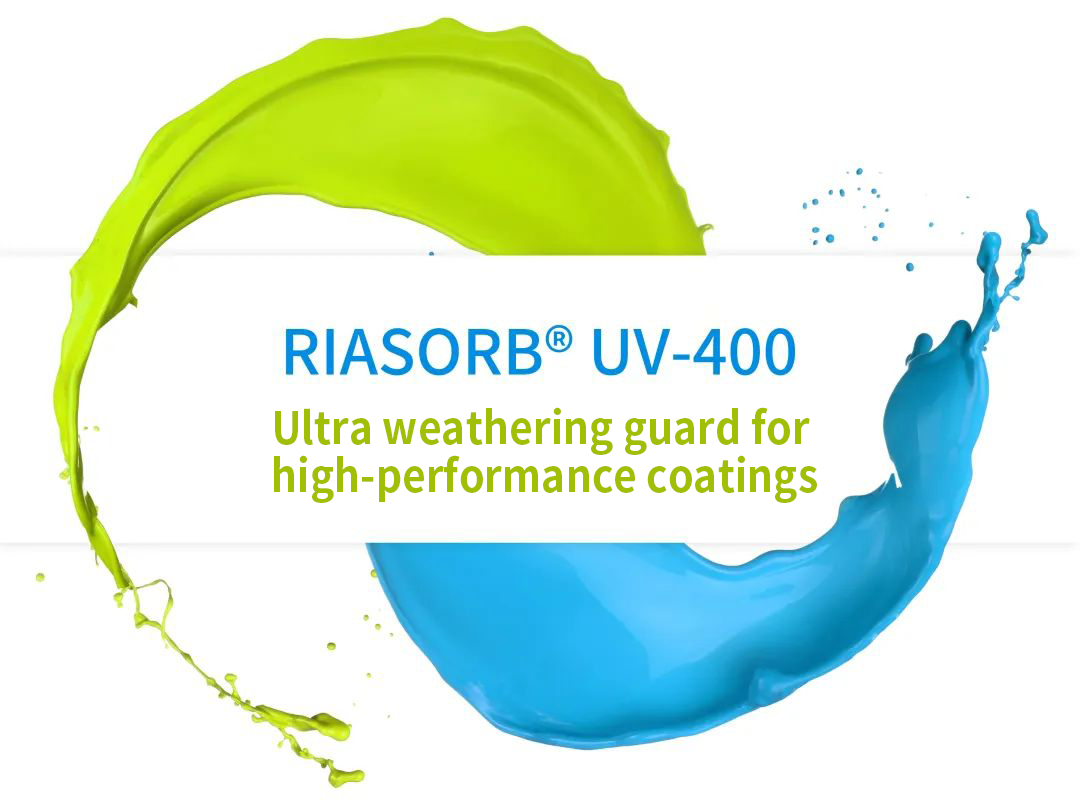 Coatings are widely used, not only to decorate every corner of modern life, but also to provide surface protection for a variety of industrial products.
Excellent weather resistance will give coating:
1. Stable and durable performance -- keep coatings forever colorful.
2. Long-term protection of the substrate -- to meet the high quality or special requirements.
From the perspective of product color and performance of high-end coating, the excellent weather resistance is necessary.

How powerful is this weathering guard
UV absorbers are the critical additives for the weathering resistance of coatings. UV absorbers have also undergone several upgrade in response to the increasing requirements for weather resistance. Each upgrade brings more excellent performance.
Triazine UV absorber is the latest generation of products, compared with the current mainstream benzotriazole UV absorber, it has stronger UV absorbance, lower migration trend and more outstanding long-term protection.
RIASORB® UV-400, as the most popular triazine UV absorber in the coating industry, not only inherits these excellent "family properties", but also more suitable for the operation and application in the coating industry.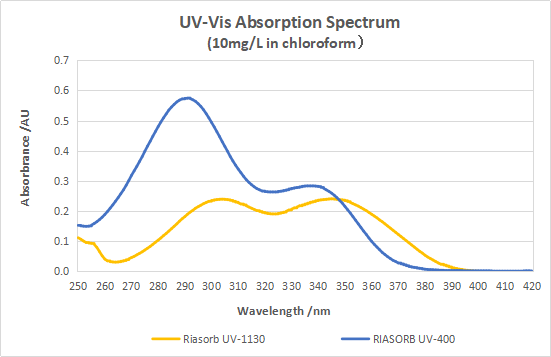 What is RIASORB® UV-400

Rianlon RIASORB® UV-400
1. Liquid triazine UV absorber with high absorption;
2. Particularly effective in screening irradiation of UV-B band (280-315nm);
3. This unique absorptive capacity endows coatings with excellent performance under QUV-B test (UV lamp with maximum tensity at 313nm), as shown in the figure below: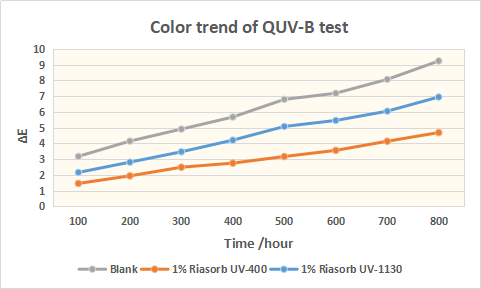 QUV-B test on 2K acrylic polyurethane clearcoat,pre-applied with white basecoat
Test standard:ASTM G-154-06,cycle 2
RIASORB® UV-400 has long been used in a wide range of high-performance coatings, such as automotive OEM coating, aerospace coating, high-performance industrial coating, high-performance wood coating and many other applications. In addition, RIASORB® UV-400 can also bring surprising results when there are any problems related to photo-degradation or photoinduction.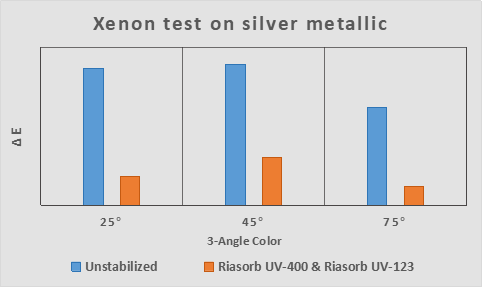 The figure above shows the combination of RIASORB® UV-400 withRIASORB® UV-123, a hindered light stabilizer, was used in the 1K automotive OEM clearcoat . Under long-term xenon test (SAE J2527), stabilized coating achieved excellent retentions in both color and gloss. The performance can match perfectly with the strict requirements of automotive OEM coating.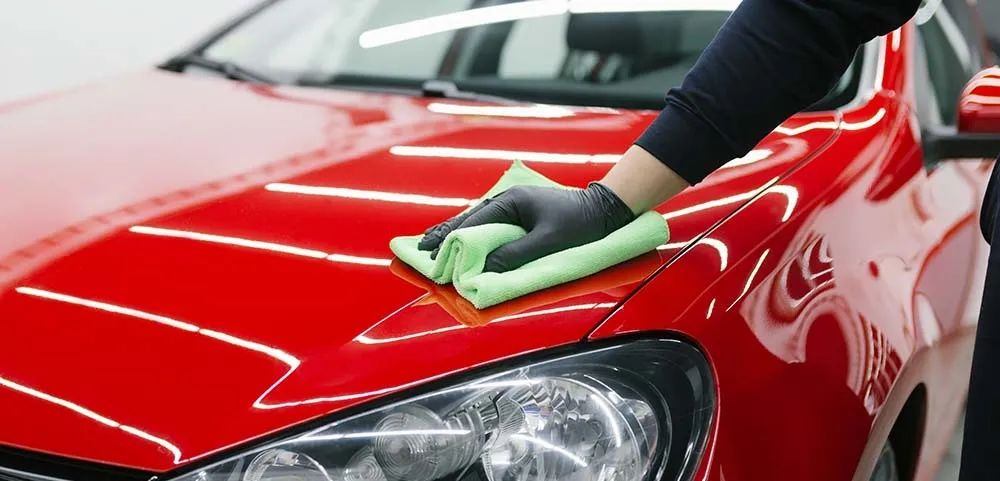 A new era is coming when the while industry is upgrading, and amounts of enterprises are marching upward value chains. High performance coatings continue to thrive in accord with this trend. As a leading supplier of anti-aging additives and application technologies for coatings,Rianlon will keep on increasing investment in the research and development of anti-aging products and applications such as antioxidants, UV absorbers and hindered amine light stabilizers, and continue to provide a strong guarantee for the ever-changing weather resistance requirements of coatings.
Related reading
Star Product|W

idely used with good effect, UV absorber, choose RIASORB® UV-P!